INDIAN IDOL 6: Anu Malik steals Sunidhi Chauhan's spotlight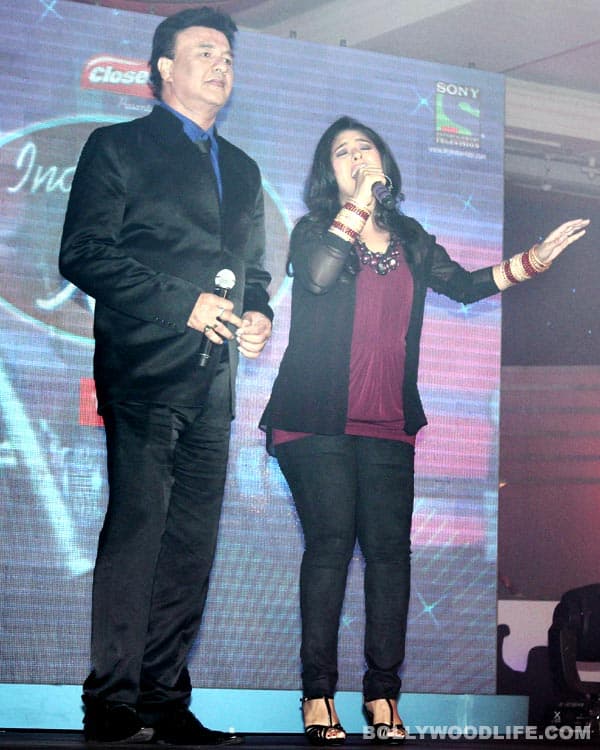 After a host of speeches, the judges – Anu Malik,
Sunidhi Chauhan
and Salim Merchant – sang a couple of songs each by way of introduction. Salim was the first and he rocked the floor with his rendition of
Main toh ainvayi ainvayi loot gaya
from
Band Baaja Baaraat
. We expected Sunidhi to be next as usually the judges are introduced in the ascending order of importance. Instead, it was Anu who was the next to perform.
He sang three songs, accompanied by Salim on the piano. Things were going smoothly so far.
Then it was Sunidhi's turn. She rendered a slower, sexier, sultrier version of
Aa zara kareeb se
from
Murder 2
that garnered applause and whistles from the audience. Salim accompanied her on the piano, but there was nothing for Anu to do. For some time, he stood at the side of the stage, nodding his head in appreciation of the song. But it didn't take much time for him to grow restless with his situation. He joined Sunidhi centre stage while she was in the middle of her song and for one second we thought they'll sing a duet. Then when Anu herded her to the front of the stage, we thought he's being considerate. But we were wrong!
As Sunidhi continued to sing, photographers jumped up to catch Sunidhi and Anu together in the same frame. That's when we realized that it was at their request that he had come to stand by Sunidhi! He was posing! Once the cameramen were done clicking pictures, he returned to the side of the stage.
That was really weird. Here is Sunidhi, singing melodiously, and Anu steps in just so that he can pose for a few photographs? What kind of behaviour is that? While Sunidhi sang, Salim was all smiles at the piano, but Anu had an expression that didn't have an iota of geniality.
We hoped that after judging
Indian Idol 5
together they would have arrived at some sort of truce, but looks like the war is going to continue this season too.