BADE ACCHE LAGTE HAIN: Ram Kapoor and Sakshi Tanwar deported from Dubai!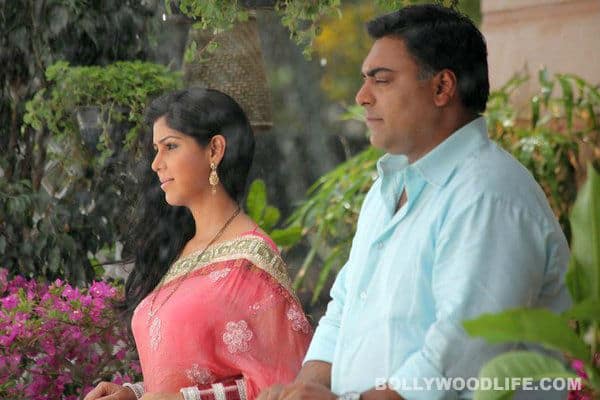 Bade Acche Lagte Hain has finally done its five-year leap and we are not especially impressed by what is going on, frankly speaking. Ram Kapoor is back to his bad habits of eating generously buttered parathas and popping pills for any odd reason and, oddly enough, chatting with an overly precocious little boy-child who has more adult dialogue than any of the grownups in the show. Sakshi, on the other hand, aka Priya Kapoor, is in Dubai, doing the ever-so-humble act, renting an Indian bookstore space in a fancy shopping mall owned by a bad-tempered zillionaire (played by the cricket-touting Sameer Kochhar).
And it had to happen – Ram is wandering about that same mall looking for that same bookshop, even as Priya is running frantically about looking for her daughter, a very irritating character played by a stout little girl. Of course, the two will cross paths at some stage, we know – or do we hope? – but they have not done so yet and you cannot help feeling like you really want to bash their heads together and put an end to this long-drawn-out soap opera track.
Be that as it may, what is more fun is the goings-on behind the scenes. We heard that the cast and crew members of Bade Acche Lagte Hain have been deported to India. Why? Because, as gossip says it, they aired the episode shot in Dubai, without seeking adequate permissions to shoot there. True? Not true? Well, we cannot say how much of what story is actually all true, but this is what Ram had to say about it, on Twitter: "Hi all!There are rumors that Sakshi and I are under house arrest in Dubai. So just clarifying that all that is utter nonsense!!….." He clarifies with "We raninto some permission problems so we has to stop the shoot but that's all. Both Sakshi and me are back in Mumbai without any problem."
Now we can only hope that they all see sense and get this suspense thing over and done with!
Also see our website for other articles about different programmes.
Or be updated with our Facebook Page: